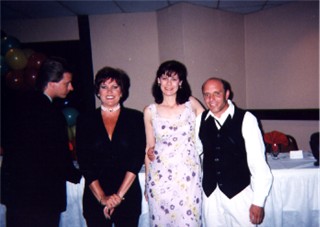 (c) 1997 Michelle Russell
Photo of Judy Garland's children, Lorna and Joe Luft, with Michelle Russell. To the left is Ms. Luft's husband, Colin Freeman.
Author's note: Joe Luft and I first became acquainted in the 1970s. We were reunited at the 75th anniversary celebration of his mother's birth in Grand Rapids, Minnesota. Joe came to one of the first living history performances we did, and later came back with his father, Sid Luft, for the final performance. It was a moving event for everyone involved. I'll never forget Sid's tears, nor all of us singing the Gumm's favorite song, "Carolina In the Morning", together.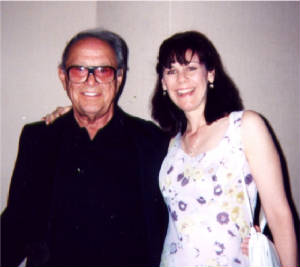 (c) 1997 Michelle Russell
Michelle Russell with Miss Garland's third husband and manager, Sid Luft.
Author's Comment: Meeting Sid Luft for the first time I had the opportunity to ask him some things about Judy. He adored her and loved to speak of her "genius" even nearly thirty years after her passing.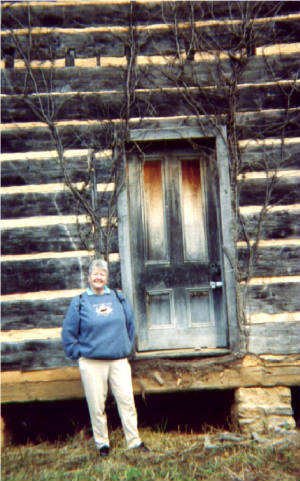 (c) 2004 Michelle Russell
Curry Wolfe, great granddaughter of John Mason Marable Baugh, the brother of Clemmie Baugh Gum (mother of Frank Gumm). Photo taken next to her fifth grandfather, Reverend Henry Hartwell Marable's log cabin in Smyrna, Tennessee.
Author's note: My meeting with Curry Wolfe changed everything to do with the book. She had already done ten years of intensive research on the Baugh family and together we launched upon a great adventure of discovering more than we could ever have dreamed of. Our daily e-mails and constant conversations about the events and characters of the persons living in the Baugh/Gum home was a fascination that would not let us go. "From Tennessee to Oz" would only be a shadow of the story it is had I not had Curry's help.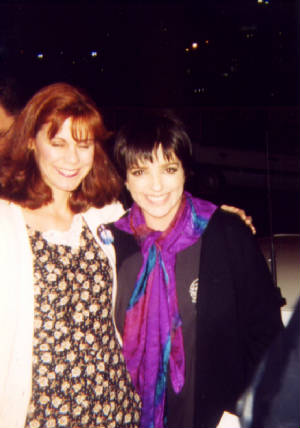 (c) 1994 Michelle Russell
With Liza Minnelli in Atlantic City, NJ.
Author's Comment: I have met Ms. Minnelli many times and it's always fun!
Stephanie Johnson, granddaughter of Virginia Gumm, Judy's sister.
Author's Note: Stephanie, very generously, shared with me what family history she knew, as did her dad, Dennis Havens. Later, Stephanie made the pilgramage back to Grand Rapids, to see the home she had heard so much about, where her grandmother, and great grandparents, Frank and Ethel Gumm, had lived. [Photo not available now]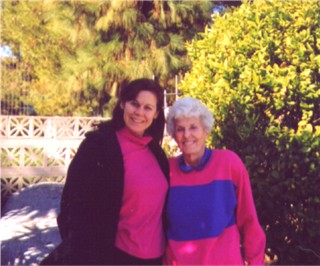 (2003) copyright Michelle Russell
With Geri Gumm, the wife of Judy Garland's first cousin, Richard Gumm, (son of Frank Gumm's brother, Robert).
Author's Note: I first met Geri Gumm and family at the Judy Garland Festival and on visiting my family in California, I spent time with Geri and learned more of Frank's brother, Robert and his family. Geri was so much fun, and very generous in sharing her husband's heritage. Richard, unfortunately, passed away a few years ago, but Geri said he had a great sense of humor, and would never had stood for anyone saying anything bad about his Uncle Frank. In turn, Judy loved her "Uncle Bobby".