Thank you for visiting my site! This collection has been gathered over a lifetime.
Take a look and see if there's something here for you. Most prices, except for clothing, include postage.
Preferred method of payment is Paypal. Otherwise, please send a money order. The account for Paypal is
catsong2@netzero.net
Michelle Russell
HC1 Box 23Z-31
White Haven, PA 18661
Thank you for your visit.


**************************************************************
From Tennessee to Oz sale is over. Please click the book to visit the Catsong Publishing website.
or visit The Judy Garland Museum. They have autographed copies available!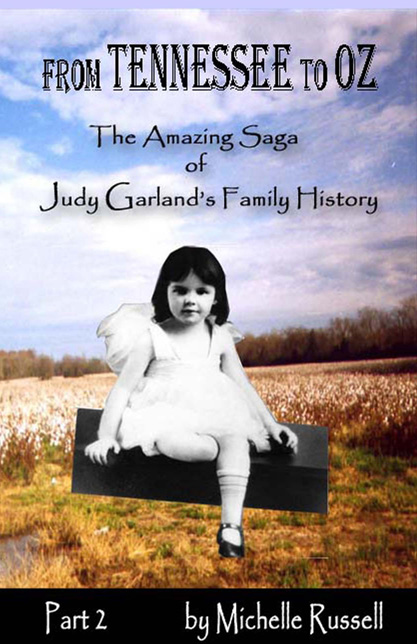 Sabrina The Autobiography of a Cat by Michelle Russell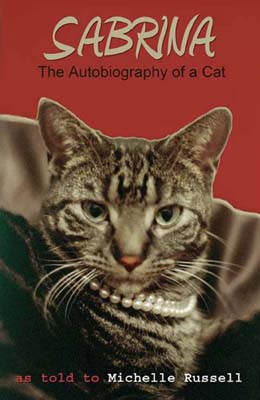 | | |
| --- | --- |
| | SABRINA's SPECIAL ONE WEEK SALE ENDS JULY 23rd. |
Please note the tabs up top. New page for music just added. Some are finished and some not.

BIOGRAPHY

- Simon & Schuster Listener's Guide to Jazz by Alan Rich – small book, mint condition with bios & Photos of all the greats! $6.00

- Tommy Tune – FOOTNOTES – AUTOGRAPHED with photos HARD COVER $12.00

- Katharine Hepburn – KATE REMEMBERED by Scot Berg SOFT COVER (New) $8.00

- Katharine Hepburn – A REMARKABLE WOMAN by Anne Edwards HARD COVER $9.00

- Charlotte Church - VOICE OF AN ANGEL – My Life So Far – hardback 233 pgs + photos NEW!!! $3.50

- Vivian Vance – The Other Side of Ethel Mertz by Frank Castelluccio & Alvin Walker 317 pgs, many photos – like new $7.00

- Michael York – Accidentally on Purpose (autobiography) Many photos Hardcover 430 ages pages $5.50

- Karen Horney – Adolescent Diaries of… pioneer of psyscoanalysis, hardcover $4.00

- Imagining Liza – Memoir of a Fan by Beverly Raffensperger Fauve 152 pages & photos $4.00

- Eleanora Duse by Jean Stubbs (great actress of theatre) 1970, 320 pgs $5.00

- The Life & Death of Lenin by Robert Payne (1964) HARDBACK 671 PGS 668, PHOTOS $10.00

- NAPOLEON – The Last Phase, by Lord Rosebery, 1900 lovely hard cover $7.00

- Knowing Hepburn and Other Curious Experiences, by James Prideaux 317 pgs $8.00

- Marilyn, Joe & Me – by June DiMaggio – hard cover - like new

Story has been question, but large size book with many photos & stories includes Jeanette MacDonald, Ann Southern & others + recipes! 214 pages $12.00

- Vanity Fair – THE SECRET MARILYN FILES – Cover story Oct 2008 Photos of Marilyn's personal effects. Slightly rumpled. Large Magazine $5.00

- SEE ALSO - HISTORY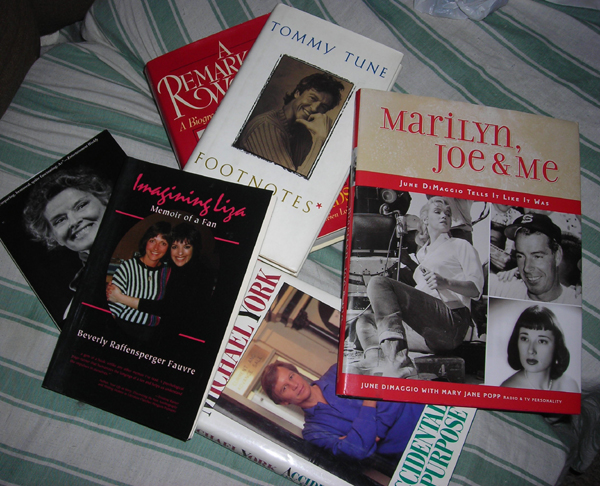 NON- FICTION

- W A S by Geoff Ryman A novel which includes Judy Garland's life and The Wizard of Oz. It is about Dorothy Gael, an orphan living on the Kansas frontier. It is also about Jonathan, an actor dying of AIDS and his attachment to OZ. NEW! $5.00

- The Tragic Muse by Henry James – soft back $3.00

- Mary Oliver – A Life by May Sinclair – non-fiction $3.00

- 4 PHASE MAN by Richard Steinberg Hardback conspiracy thriller involving spies & more 356 pgs! $6.00

- MORE ANNOTATED ALICE – Alice's Adventures in Wonderland and Through The Looking-Glass. Annotated with original drawings, a large, beautiful book. Only slip cover is slightly worn but book is mint condition. $15.00
POETRY & ART

- William Blake – Songs of Innocence and of Experience - Small Pamphlet with color copies of original work. $2.00

- Cezanne – Great Artists small color book with paintings and writing on them from 1953. $2.00
SONGBOOKS

- MAGIC & 16 Chartbusters from the 70s! Voice, Piano, Guitar used $3.00

- Book of GREAT LOVE SONGS about 50..from Angel Eyes, Beauty & the Beast, etc. Ask if you have any questions! $6.50

- MODERN MOVIE SONGS 13 hites.. All That Jazz, Come What May, I Am a Man of Constant Sorrow, My Heart Will Go On, Tears in Heaven, A Whole New Word, etc. (BIG NOTE, simple sheets piano) $5.00

- Mack and Mabel – Original Broaday Songbook – with photos from the B'way show starring Bernadette Peters and Robert Preston, 1974 – ELEVEN SONGS $8.00

- The 30s – 80 Years of Popular Music - NEW 48 Songs – questions – please ask $10.00

- Songs In the Key of Life – Stevie Wonder – Easy Piano – Photos & ELEVEN SONGS, 1977 $ 4.50

- Cassettes, CDs & DVDS

DRINK FROM THE WELL – Michele George – HOW TO RECLAIM YOUR NATURAL VOICE $3.00

DVD – 1 "FRIENDS" TV series DVD with six episodes, from a damaged case $3.00
LIFE, HEALTH & RELIGION
- Cruising Connecticut with a Picnic Basket by Joan Mann (NEW)
Includes places to go and recipes Fun! $6.00
- Western Guide to Feng Shui Room by Room – with photos $3.75
- Splendor & Majesty from the Salesian Missions Collection
Prayers & Color drawings $2.00
- HOME REMEDIES FROM AMISH COUNTRY – 112 pages with remedies & Photos- NEW! $3.50
- The Practical Encyclopedia of Natural Healing by Ex Editor of Prevention, 1983, hardback 550 pages $5.00
- TALKING DIRTY with the Queen of Clean, Linda Cobb a #1 NYT Bestseller soft back $4.00
- The Wisdom of Menopause – Creating Physical & Emotional Healing during the Change By Christiane Northrup, MD, Soft cover $7.00
- Safely Prosperous or Really Rich? Choosing Your Personal Financial Heaven By Howard Duff, hardcover $5.00
- LOS ALAMOS Trails by Craig Martin, Hiking, Mountain Biking and Cross Country Skiing, Mint condition soft back $3.00
- Germany 1988 – Fisher's World – not a lot has changed looking at historic sites! Maps & annotations, 322 pgs. $4.00
- Clear Your Clutter with Feng Shui by Karen Kingston. 176 pgs $3.50
- SUZANNE SOMERS – Eat, Cheat and Melt the Fat Away – Beautiful NEW book with Recipes and color photos. Originally $16 $12.00
- Two small health books for PETS from DORIS DAY– First Aid for our Best Friends And Common Sense Care for Your Best Friend $2.00
- Building a Relationship That Lasts by Dick Purnell $3.00
- Eckhart Tolle's A NEW EARTH from Oprah's book club –
Awakening to Your Life's Purpose soft back- used $3.50
HISTORY
- The Life and Times of Andrew Jackson by H.W. Brands (like new) soft back 568 pgs $7.00
- CANE RIVER by Lalita Tademy – this book supposedly based on the author's family history. The story of slavery – It was part of Oprah's Book Club and eventually caused some trouble- but excellent story. Hardback, like new 417 pages with photos $10.00
- Napoleon by Emil Ludwig, 1926 – hardcover, 707 pgs, inside connection of book- cover wearing a bit (copies of paintings inside as well) $10.00
- Lenin's Grandchildren – Preschool Education in the Soviet Union by Kitty Weaver 1971 hardback, 254 pages with photos $5.00
- Sexual Liberation or Sexual License – The American Revolt Against Victorianism By Kevin White hard cover 38 pgs $3.50
- Duncan's Ritual of Freemasonry by Malcolm C. Duncan NEW $5.00
CIVIL WAR BOOKS
- Mothers of Invention – Women of the Slaveholding South in the American Civil War By Drew Gilpin Faust – soft cover & photos… like new $8.00
- A Diary of the Civil War by John C. Spence – hardcover 164 pgs $10.00
(writer who lived in Murfreesboro, TN and kept diary of events)
- Advance & Retreat by General John B. Hood $3.50
- When Will this Cruel War Be Over (non-fiction based on fact)
good for teenager NEW -SEE PHOTO LISTING $8.00
- The Civil War, Fort Sumter to Perryville by Shelby Foote 840 pages, top cover slightly bent. **If interested will have to check postage $3.00 (before pstg)
- States Rights and the Union 1776 - 1876 by Forest McDonald hardback – mint condition $7.00
- General Joseph Palmer, Tennessee's Battered Brigadier by Robert O. Neff 200 pgs with
photos of family and Murfreesboro home – Mint Condition $10.00
COMPUTERS & BUSINESS
- Own Your SPACE by Linda McCarthy – includes CD-ROM Norton Internet Security 2007 Keep yourself and your stuff safe online $3.50
- Investing in Real Estate – Andrew McLean & Gary W. Eldred soft cover 310pgs $5.00
- How to Form Your Own Corporation 1998, sample forms etc. 198 pgs. Information on each state $7.50
BOOK and MUSIC PUBLICITY
- Author 101 – Best Selling Book Publicity by Rick Frishman $5.00
- Author 101 – Best Selling Non-Fiction – The Insider's Guide to Making Reality Sell $4.00
- INDIE BIBLE for promotion music with radio stations etc. However this book is 7-10 years old $5.00
LANGUAGE
- Large MODERN GERMAN book for classes by Vail/Sparks/Huber hardcover $12.00
- Many more German and French languages books – ask if interested
Magazines

Brooke Bogart – Bogie and Bacall's granddaughter Page Six 2008 $1.50

Patti LaBelle cover article – BKERSFIELD Life Feb 2007 (2 copies) $2.25

Dancing with the Starts cover with Mario, Emmit and Joey $3.00

What Killed Anna Nicole's son – In Touch Oct 06 Also Tom Cruise & Oprah $2.50

TV Guide Eric Dane Cover, America Ferrera, Farrah Fawcett & Mario Lopez $2.25

Parade 2007 Abigail Breslin $2.25

Parade, March 2007 Scarlett Johansson $2.25

Globe – April 2002 Liza & David Gest – Gay Uproar over Liza's new hubby 2.50

Enquirer Nov 2002 Liza TV crew Abused my husband & Jane Fonda 2. 50

Many more vintage clips and magazines from 60s, 70s and 80s.
Shoes (Postage not included)

- White Sling back Shoes 8 narrow $3.00

- Brand New pale mint green flat satin shoes low heel – 8 narrow $10.00

- Turquoise Satin, pointed toe low heel pumps.. New! 8 $ 8.00

- Lovely Brown Leather Nine West 8 M cutout on side & wrap at toe $5.50

- Ara bone leather with black patent leather tips, low heel 5 1/2 almost new $5.00

Clothing

- Brown cotton 97% & spandex 3% pants Petite, 1XG back elastic band – New $5.00

- NAVY LANDS END pans… very nice w/zipper. Worn 2x Size Petite 14 $5.00