SPECIAL SALE - Beginning August 19th thru September 30th, 2013, we are making a special offer to clear some inventory.
MADE IN AMERICA - Vaudeville Songs - the original release with Erin Romero as Ethel Gumm, Melissa Magaliff as Baby Gumm and David McMullin as Uncle John Milne - 22 Songs $3.00 including postage
MADE IN AMERICA -Vaudeville Songs - 2nd Release with added violin, clarinet, Jennifer Ackerman on some of Ethel Gumm's Songs, Sofie Zamchick as Baby Gumm, and additional arrangments and performances by Sue Maskaleris (Added song "Wear a Hat with a Silver Lining). $4 including postage
Don't miss this opportunity to own a great CD recording of rare and classic songs!
| | |
| --- | --- |
| | Click here to purchase the revised "Made In America" CD for the unbelievable price of $4.00, INCLUDING shipping & handling! |
| | |
| --- | --- |
| | Click here to order the ORIGINAL Made In America - Vaudeville Songs for only $3 including postage & handling |
To order by mail:
Make your check or money order out to:
Catsong Productions
And mail to:
HC1 Box 23Z-31
White Haven, PA 18661
What critics are saying:
"The great achievement of this album is that it comes off as a sincere love letter to the style and sensibility of the period...
Brian De Lorenzo [singing the songs of Frank Gumm] has a real flair for the period style... whether turning on the charm for a showy bit of flash or a sentimental ballad with his pure, high voice...
Jennifer [Ackerman] does a lovely job with a solo...
Sofie Zamchick, age 8, ...is a sweetie. As Judy, she sounds ...endearing in her solo spots...
Major credit is due the pianists, Sue Maskaleris... and Mark Hartman... As Ethel Merman first sang..., "who could ask for anything more?"
The "Made In America - Vaudeville Songs" CD includes:

- 22 songs the Gumm Family performed in vaudeville!
-A short history of Judy Garland's family
-Photos from the show.
- 2005 version includes violin, clarinet & ukulele
8 new tracks & vocals
Our original Made In America CD, was a lovely work that is now nearly sold-out. The brilliant NEW "Made In America - A Tribute to the Gumm Family" has many changes and wonderful additions. Don't miss the fun! Put your order in now!!!
Original Made In America Cover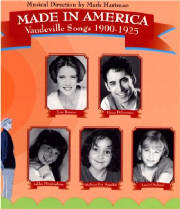 FROM TENNESSEE TO OZ will be released in July! CLICK HERE for more info!
PLEASE VISIT: MICHELLE'S BOOK NOOK for books, music, and costumes!